Of
all the candidates
that have declared their intentions for 2008 thus far, one is making
uniquely clear statements
in both domestic and foreign policy:
Duncan Hunter
.
Foreign Policy:
When he
first announced
his candidacy at the end of October, he declared a very simple, clear and understandable
Iraq strategy
: "One, two, three,
stand up to

free government

. We've done that.
Stand up to

military

that can protect it. We're doing that in Iraq and Afghanistan.
And number three, the

Americans leave

.
"Now, which is it, the one or the two or the three that the liberals don't understand?"
When the Republicans controlled Congress, he chaired the
House Armed Services Committee
.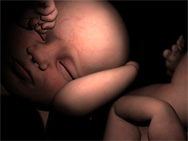 Domestic Policy:
On Monday, at the
Blogs for Life
conference at
FRC
, the ABC News Political Unit
reported
Duncan Hunter said,
"If a judicial nominee can look at a

sonogram

, the picture of an unborn child, and not see, looking at that sonogram, not see a valuable human life,

I'm not going to give him an appointment to the court

. I am going to give him an appointment to an optometrist to get a set of eyeglasses so that he can see that."

Friends, that's the kind of clarity we need from our leaders.
If a
member of the House
can win the White House in 2006, we need a real one
who can win
the White House in 2008!
Lord willing
, he will
make his candidacy official
tomorrow, when he also plans to relaunch his
official presidential campaign Web site
.